About Tlws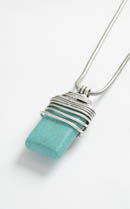 Tlws is an exciting jewellery company, specialising in selling contemporary jewellery, made of sterling silver and gemstones, colourful costume jewellery; together with their own unique handmade jewellery - there is something to suit everyone!
Tlws was established in August 2005 at the owner's farm, ex-teacher Gaenor Roberts, at Llanfair Talhaiarn, near Abergele, North Wales.
By now Tlws has a shop in Abergele in addition to continuing to sell online, through mail-order, through stalls at shows and Eisteddfodau, and through hosting jewellery selling evenings.
There is a team of ladies hosting evenings throughout North Wales and the North of England.
Part of Tlws' appeal is the vast variety of jewellery in the collection. You will find jewellery created by local designers from Wales and Britain, like Kate Hamilton-Hunter Studio from Abergele, and Carrie Elspeth from South Wales, alongside jewellery from countries such as India, Indonesia and Thailand.
The company is fully bilingual in Welsh and English. The company's main emphasis is on providing service second to none – personal touches such as gift-wrapping service, gift vouchers, and the option to include a personal message on a gift tag.
As previously mentioned, Tlws also now creates its own unique jewellery ranges - you will see the ranges on our website under Tlysau; Sglein and Ecotlws
Tlysau - a range of jewellery made from wood, gemstones and other materials.
Sglein - unique jewellery made from glass, cut by hand and fused in a kiln.
Ecotlws - made from recycled glass and other recycled materials. - What better use for and old wine bottle or old windows?!
We can even make an item of jewellery especially for you, for a wedding or other special occasion or as a special and unique gift. Contact us for further information.
Shop at Tlws
If you would like to call by our shop in Abergele then Gaenor, Joyce, Ceri or Lois will be more than happy to help you with a personal service in English or in Welsh. You can also find Tlws Jewellery for sale at the following places:
Oriel Môn, Llangefni, Anglesey
Siop Bys a Bawd Llanrwst
Nant Gwrtheyrn